HeadPeace
Quality headbands for athletes, yogis, hippies and busy people!
HeadPeace headbands are designed by me and made by a socially-ethical manufacturer that empowers the most marginalized in society to fresh starts and fulfilled lives

Photos courtesy of Gwen Rosowski Photography

"HeadPeace headbands are fantastic! I wear mine to work out or with a cute outfit! They are full of style and functionality. I love how soft they are and they keep the sweat from running down my face and my hair in place. My favorite headband by far!" (Lauren Austin)

"I always wear a headband when I exercise or even when I work out. It is so hard to find one that is wide enough, fits enough, fits just right, doesn't leave an indentation on my skin, is made of good quality material and is fashionable. HeadPeace Headbands is all of those things! I have worn one almost daily for two months; each time I bike or hike and when working in my garden. Not only are they extremely comfortable, (made of a lightweight, stretchy fabric), they are efficient at stopping sweat from getting in my eyes. They can be worn very wide on your head or you can fold or roll them to be more narrow and that is a nice option! I love that they are produced in an ethical manner and gives jobs to women in Nepal in need…this is a product that is about high standards and quality. I would recommend this product to anyone and I have already given some away as gifts! They are that good! So glad I met Lindsay because I used to struggle to find a headband that keeps my hair out of my eyes…no more painful bobby pins :) (Barbara Huey)

"HeadPeace headbands are fantastic! I've purchased 3 for myself and will definitely buy more in the future. The texture is nice, the fit is just right (not too tight or loose) and the fabric itself is really cute!" (Stephanie Walcott)
Powered by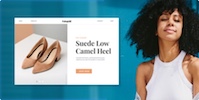 Create your own unique website with customizable templates.